Shoes in contemporary art
25 juni 2017 t/m 29 oktober 2017
art curators: Marijke Cieraad & Pascalle Mansvelders
art educator: Roel Sanders – Kunstlab Odapark
de tentoonstelling is een samenwerking met Galerie Petra Nostheide-Eÿcke, Düsseldorf D en onderdeel van een reeks in steeds veranderde samenstelling van kunstwerken en kunstenaars per deelnemende instelling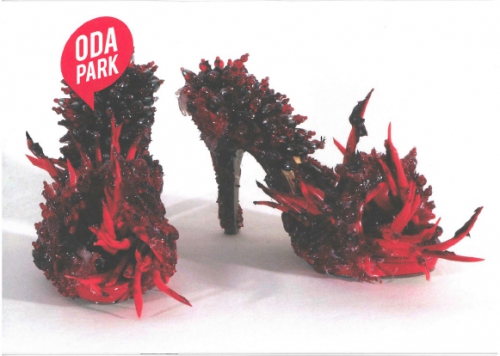 Bestaat er in kleding iets dat zoveel fascinatie, passie en sexappeal oproept en uitdraagt als de schoen? Bestaat er in mode een onderdeel dat vaker wordt vergeleken met kunst als de schoen?
ART SHOES richt zich op de schoen als kunstwerk, de andere kant dus van de schoen die we kennen als praktisch of modieus gebruiksvoorwerp.
In deze tentoonstelling is niet de schoen te zien die men aan kan trekken of zelfs maar kan passen. Niet die waarop men loopt. Zelfs niet de exemplaren die ontwerpers – hoe creatief of kunstzinnig ook – wereldwijd maken van de schoen. ART SHOES toont enkel de schoen in de rechtstreekse context van autonome beeldende kunst.
De internationale tentoonstelling ART SHOES onderzoekt hoe de dagelijkse werkelijkheid verandert door oog en hand van de kunstenaar. De schoen is te zien als het antwoord van de kunstenaar op het oh zo gewone waarmee we dagelijks de aarde betreden en de wereld aankunnen.
De schoen als kunstobject is in ART SHOES te zien in diverse technieken. Van beelden en objecten tot tekeningen en schilderijen, en van advertenties en foto's tot installaties. Of de schoenen makkelijk zitten, of deze überhaupt nog draagbaar of beloopbaar zijn, is voor de kunstenaar van geen enkel belang en doet er dus ook niet toe bij deze schoenen. In deze tentoonstelling wordt juist onderzocht of de schoen een verhaal heeft dat verder gaat dan dat van gebruiksnut.
Sinds het midden van de jaren vijftig gebruiken Pop Art-kunstenaars elementen van onze dagelijkse werkelijkheid als onderwerp voor kunst. De schoen stond in deze ontwikkeling letterlijk en figuurlijk vooraan. Voordat hij doorbrak als kunstenaar werkte Andy Warhol als illustrator van schoenen voor de reclamebranche. De tekeningen uit deze tijd baanden het pad voor zijn latere werk en daarmee voor alle thema's uit onze consumptiemaatschappij die hij opvoerde in de beeldende kunst. Daarmee gingen ze een rol van importantie spelen voor veel kunstenaars wereldwijd en decennia lang.
Vooral de damesschoen is het stadium van praktisch gebruiksvoorwerp al lang voorbij. Schoenen zijn toonbeelden van schoonheid geworden. Ideeën van luxe, statements over gender en vrouwenbeelden, uitingen van fetisjisme en sluitstukken van lichamelijkheid.
Kunst is dan nog maar een kleine stap verwijderd. Die waarin de schoen in kunst symbool wordt voor de mens en diens stappen in het leven.
DEELNEMENDE KUNSTENAARS:
Ursula Bolck-Jopp
Nicolae Comanescu
Zhenia Couso Martell
Suzana Dan
Hans-Peter Feldmann
Peter Gilles
Allen Jones
Birgit Kahle
Konrad Klapheck
Les Deux Garçons
Ted Noten
Mel Ramos
Melanie Richter
Svenja Ritter
Iris Schieferstein
Peter C. Simon
Daniel Spoerri
William Sweetlove
Maurice van Tellingen
Andy Warhol
Sabine Wild